Sculptor of thought, freedom and space
Né à Castelnaudary (Aude) le 28 avril 1 941 .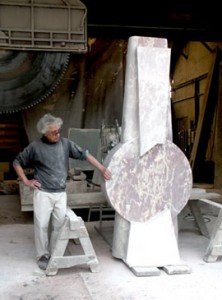 • Academy of la Grande Chaumière (PARIS)
• School of Louvre (PARIS)
• Shool of Beaux-Arts de Paris
ACTIVITIES                         
As an artist, since 1 971 , exibitions in art shows (several awards), art galeries in Paris, Province, Italy, Spain. Sculpture symposium.
As a creator (conceptor), realisation of «protophone» furniture (for houses andindustry), tombstones, fountains, medals, lightings.
PRODUCTION
Public (France, Germany) and private (Germany, Brasil, Etats – Unis, France, Japan
---
 Come into the galaxy of Jean ESCAFFRE
Should humanity come to disappear, doubtless there will still be the durable marbles of Jean ESCAFFRE, where he has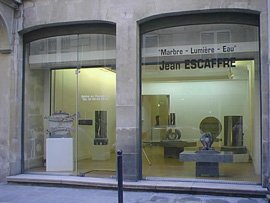 drawn the essentials.
Light come out of the border lamps "Bornes lumineuses", so much as stars in the galaxy, powered by the Fairy Electricity, a modern celebration of human progress, but we also perceive the natural,
timeless and original light in "Lumière d'Asie", set in a style of economy of signs, in transcendent numbers and in the constant ratio of a circle's diameter. In this work of union of cultures, to the rationality of the West, the sculptor gives the interiority and the meditative power of the East, an appeal to universal culture.
In this galactic observation, there is an appeal of the curves of "Douceur pyrénéenne", which seems to feed the song of the fountains and we ask ourselves : cosmic fountain, fountain of blood, of antic sacrifices or fountain of reconcile where hearts offer to each other with the knotted wrists of lovers.
Does this song of water find its source in the simplicity of the Basque rivers ? Or does it represent more universally the cosmic fullness ? The cycle of water "Le cycle de l'eau", from heaven to earth, water slides from the clouds to the temple columns and discovers the magic of prairies in the veins of green marble. This work of art recalls the patience of accomplished labour of man and god, the wholesome experience of nature and culture which makes up the greatness of human civilisations.
Jean ESCAFFRE offers us this cultural melting-pot, with human scientific inventions "Hypotenuse" or the creations of art "Jazz et Java".
If indeed humanity should disappear, and if the survivor or the E.T. looks for the causes of the disaster, he might find some answer in "La valse du dollar" and if he manages to manipulate "L'arche de liberté", he might discover that the strange bed-fellows of dollar and barbaric had the last words over our planet.
Text from Nicole BARRIERE Poetess (2002)